Bird Ross: A New Vocabulary
by Karen Searle
Thread and fabric undergo a splendid metamorphosis as Bird Ross composes vivid, spirited garments. Colorful prints over a bold print background are covered with free flowing machine stitching to blend colors and build texture. AIthough only three or four materials are used in each garment, the overall lush impression is due to the overstitching of colored thread that blends disparate elements and alters the hues and patterns of the fabric, giving it an entirely new vocabulary for creative statements. Overlays of sheer organza or net extend the decorative range still further.
Gifted with an especially exuberant color sense, Ross delights in marvelous print combinations, providing the work its great charm. She says, "Each jacket looks and feels different from the ones before, egging me on to start the next one."
All the garments are reversible. "I want to make the clothing reversible because it allows me to work on two canvases at the same time. It feels more challenging because of the main fabric and stitching on both sides, with very distinctive accents. I often wonder if people turn them inside out and wear the other side. If they don't, it's their loss, but at least I had fun making two jackets."
A recent line of vests combines Japanese silk kimono fabrics with pieced and stitched fronts and organza backs. The geometric patterns of the silks are redefined by the piecing, placing and stitching of random designs. "It's very exciting to work with silk," Ross says. "It's a new color and texture for me. Trying to make geometrics work together is another great challenge."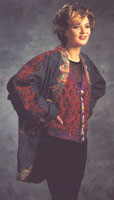 Her piecework style was influenced by a basketry course she attended at the Penland School of Crafts in 1986. "I had never made baskets and I started with buckets of water and reeds. It was interesting, but didn't really hold me. I wanted to be blown away by something new." She ended up pursuing her own vision through fabric and a sewing machine. "I thought I could make baskets, but I prefer using materials and a machine that I really love, trying to figure out new ways to utilize them." At first she made sewn fabric baskets, then began applying basket techniques to garments. She designed a jacket in her favorite fabrics for her own small frame, and from the initial positive response, quickly developed a range of sizes and streamlined the construction process. Combining two commercial patterns, she arrived at the right design. "The three S's-size sex and season are drawbacks to producing clothing commercially. They get in the way. I found two patterns that have very few seams and could be worked flat for a long time. The last seam is the one that makes it three-dimensional, and pulls it together."

Ross would prefer to construct clothing entirely of piecework, but the result is too stiff. She decorates the edges, seams and pockets, and often the shoulders to create a yoke effect. Washing yields a softness and serendipitous puckering effect.
She arrived in Madison Wisconsin by way of Berkeley, California, preceded by a rapid string of residences in several other states. Her husband, a furniture designer, is an instructor at the University of Wisconsin. They live with their baby son in a home located on the shore of Lake Monona with a view of the Wisconsin state capital across the water. Ross returned to school, partly to pursue an advanced degree in sculpture and to become more involved in the local art community.
After receiving a master of fine arts degree at the University of Wisconsin, Ross and her husband lived in Japan for nine months, returning the next spring, just after the birth of their son, with a stock of kimonos to recycle. She says, "Like any experience, it ultimately influences me, but how it's going to be realized, I don't know yet. But I'm like a kid in the candy store with my stash of fabrics. I'm so intrigued with the kimonos that I brought home; I took most of them apart and the construction is unbelievably complex."
The recycled clothing is used for baskets and vests and mostly new materials for jackets. "I like working with fabrics that have a history. When I first started making baskets, I went to yard and estate sales and found great old rayon dresses with terrific patterns and colors. But now that I need three to four yards of three different fabrics for each jacket, I can't always utilize old fabric. It's much more interesting to find something that already has had some life, affiliation or identification. I like being able to alter people's expectations about an item of clothing, when they see it changed into something else, be it garment or basket."
Fascinated by sewing as a child, Ross was inspired by her grandmother's and oldest sister's skills. She finally learned to sew in a home economics class, and continues to be exhilarated by it. After Tulane University where she majored in French, Ross went to the Arrowmont School of Arts and Crafts in Tennessee to study surface design with Lenore Davis and then to Haystack School in Maine for weaving instruction with Nell Znamierowski before attending Penland in North Carolina. In those settings she met people who were doing much more with sewing than making clothes. "I saw that there were lots of other ways to use my abilities."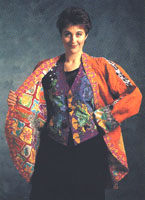 Her skill expanding experiences include sewing costumes for the Oregon Shakespearean Festival, making props for the Children's Community Theatre in Eugene and making banners and handsewn greeting cards. "It was an excuse to be able to sew more and also to make a living. I had big ideas and since I liked sewing so much, I was always finding ways to do it and get paid."
Sewing for the theater is an experience Ross considers seminal to her development as a stitcher. "You work with real materials, fur, velvet, or silk. Some costumes were newly made, and others had to be refurbished. You had to know how to rip stuff out quickly and when to cut. You had to make important decisions all the time as part of the job. We moaned a lot, because it was pretty much basic sweatshop work, but I learned an incredible amount. It's pretty terrific to go to the theater and when the lights go down, watch people wear what you worked on. It's really rewarding."
Ross now regularly teaches workshops, mostly as a result of an article she wrote for Threads magazine. "It's been over a year, and people still invite me to teach. That's something I never anticipated. Teaching is stimulating and I learn a lot. It's a way for me to focus on 'what am I doing and how an I doing it?' Otherwise, I'd just do it, and not really ask myself the questions."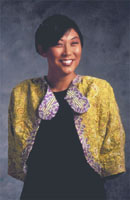 Focusing on technique itself does not hold her attention for long, however. "Teaching techniques at fabric stores, craft centers and guilds is important becaxuse it's through these outlets that the world of textiles and fiber thrives and sustains itself. And yet I like the idea of challenging myself in a workshop situation where it's not strictly about technique." She taught an inspirational workshop at the Split Rock Arts Program in Minnesota last summer. "It was rejuvenating and enriching. After I turned students on to an idea, they took the ball and ran with it, and everybody went off in different directions. It became an opportunity for them to grow and explore, and I could sit back and watch."
Ross often fantacizes about infiltrating the home econommics department of vocational schools and saying, "'Here's how to use the sewing machine, don't use thread that match, don't use fabrics that match, use a commercial pattern, but change it.' If there's room in my life, I'd like to do that -- teach something very rudimentary but with a twist. Some people are afraid of the sewing machine, or think of it as a very mundane, domestic appliance. Yeah, it is. And here's what you can do with it! That's an exciting and really healthy way to feel you have something special."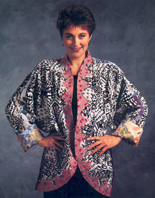 REVERSIBLE JACKET of cotton,
silk and rayon; machine quilted.
Model: Stephanie Jutt.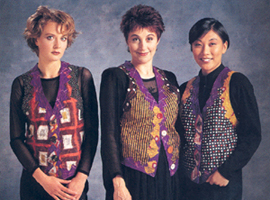 REVERSIBLE VESTS of silk and organza;
machine quilted, Models (left to right):
Twyla Rymer, Stephanie Jutt, Meriza
Charbonneau.
Karen Searle is a fiber artist, teacher, and writer in St. Paul, Minnesota.
- from Ornament 17:4 (Summer 1994), pp. 40-43.
Photographs by Harper Fritsch Studios; copyright 1994. Article copyright 1994 Ornament